Lawless Wedding Flowers Limerick
What we love at Lawless flowers Limerick is to create the perfect floral display for each individual couple on their special day and make their dreams come to life. Using beautiful seasonal fresh flowers and foliage and our extensive knowledge to create the unique touch you are looking for that will make your day one to remember.

We know how stressful a wedding can be, so let our team do all the hard work on your big day. We deliver the Bridal flowers & Grooms flowers straight to you, set up the ceremony arrangements and then transfer them to your venue and set them up once the ceremony is finished. We take care of it all. We travel all around Ireland for our weddings with our experienced team.

We are specialists in our field with over 35 years experience. Over the years we have looked after hundreds of couples each wanting their own touch of floral magic on their wedding day and so far there isn't anything we couldn't do, from Flower arches, Candelabras, Flower walls, you name it. This is our passion. We are winners of numerous awards such as Hardys Wedding magazine Florist of the year, Brides of Limerick Florist of the year 2017, Brides of Limerick Lifetime achievement award 2018. We also have a 100% satisfaction rate from all brides for the day.

Every wedding is unique to us and to ensure that we can create the perfect fairytale wedding day for you, we would encourage you to arrange a free consultation with the designers and allow Lawless flowers to turn that dream come true
Why not arrange a consultation in Lawless Wedding Flowers Limerick today?
Brides Of Limerick Wedding Florist of the year 2017
Lifetime achievement award for service to the wedding industry 2018
Brides Of Limerick Wedding Florist of the year 2019!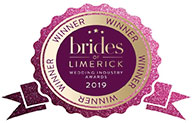 We are very proud of our work..
do please have a browse through our galleries below